The 10th Summer Program for Yiddish Language and Literature in Paris at the Paris Yiddish Center – Medem Library.
Hybrid program: on Zoom and in person
From August 9th to August 27th, 2021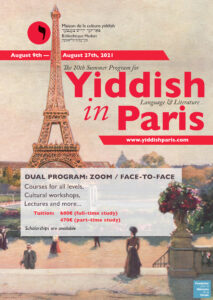 Since 1997, the Paris Yiddish Center – Medem Library has organized an international summer program every third year, under the pedagogical direction of Yitskhok Niborski. For three weeks, the Paris Yiddish Center hosts students from all around the world in the heart of Paris, offering a rich program of language courses and cultural activities. The workshops, conferences, and recreational activities enable students to strengthen their Yiddish language skills while connecting with other Yiddishists from all over the world.
This year, we have opted for a double curriculum, both face-to-face and on Zoom, with a choice of modules.
Two parallel programs offered:
A 45-hour course for levels 1 and 2 will be held on our premises with the greatest respect for health precautions.
At the same time, courses for levels 1 to 5 will take place on Zoom. Levels 1 and 2 each provide 45 hours of instruction. Participants in levels 3-5 will be able to choose between the full 45-hour program (two 90-minute courses per day, Monday to Friday, over 3 weeks) and the 22.5-hour program (one 90-minute course per day, Monday to Friday, over 3 weeks).
Participant slots are limited. Register now!
Supported by the Fondation pour la Mémoire de la Shoah and by the Benyumen Shekhter Foundation.